Overland America was conceived by Zach Porter and his wife while off-roading throughout the Black Hills of SD in their personal Jeep Wrangler with their four teenage sons. There is nothing more exciting and adventurous than hopping in the Jeep, taking a ride in the hills, and getting back to nature. Off-roading has brought so much joy to their family, and that is why Zach and Alisha have an overwhelming feeling to share their experience with the many visitors to the Black Hills.​
Zach and Alisha met and married while at the tail end of their individual military careers. Soon after being married, Zach was diagnosed with Stage 4 Leukemia. As you can imagine, their life was forever changed. Zach and Alisha have spent most of the past 5 years focused on Zach and his recovery. They are proud to say Zach is in remission and getting better every day. Their experience allowed them to take a step back and prioritize what is most important in life. Zach and Alisha know there is nothing more important than family and making lasting memories, because as Walter Payton said, "Tomorrow is promised to no one".​
Zach, being an off-road enthusiast himself, takes great pleasure in taking his family and friends off-roading. That is where Jason and Derryl come in. Zach, Alisha, Derryl and Jason all served together at the 432d Attack Squadron right here locally at Ellsworth AFB. What started out as a professional relationship quickly transformed into a family friendship. All three families have spent much time in the hills exploring, fishing, camping and off-roading. When Zach came to Jason and Derryl with the idea of Overland America, it took very little convincing this was the business they wanted to invest their time and money into. Zach, Jason and Derryl have spent countless hours modifying the size and scope of the Overland America business model to fit all of their visions.​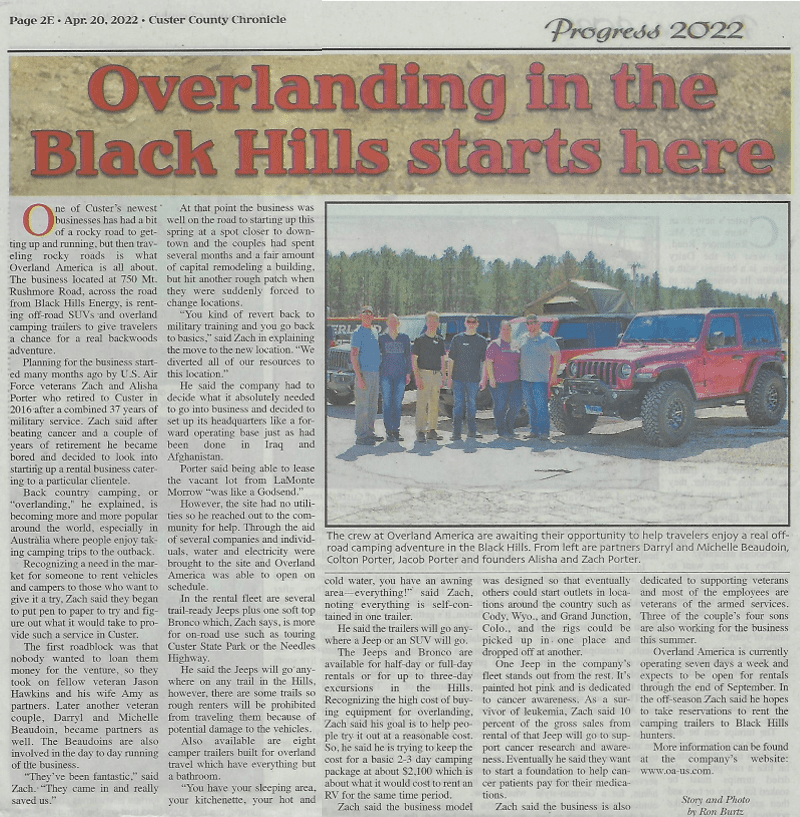 Jason Hawkins, Lt Col, USAF – Vice President/Chief of Staff- 25+ yrs – MQ-9 RPA Pilot / KC-135 Pilot / Prior enlisted AWACS   Jason joined the Air Force in 1996 from Escanaba, MI. He commissioned in 2004 as a 2nd Lieutenant. Jason has deployed numerous times to the Middle East and is still currently serving in the Air National Guard out of Michigan. 
Derryl Beaudoin, Maj, USAF, Retired – Chief Operations Officer – 20+ yrs – MQ-9 RPA Pilot / KC-135 Pilot / U2 Crewchief Derryl enlisted in the Air Force in 1997 from Lewiston, ME. He commissioned in 2005 as a 2nd LT. Derryl was deployed 13 times to include Iraq and Afghanistan. He retired in 2017 from Holloman AFB, NM. 
Michelle Beaudoin, MSgt, USAF, Retired – Chief Administrative Officer/Board Secretary – 21+ yrs – Certified Alcohol & Drug Abuse Counselor / Mental Health Craftsman Michelle enlisted in the Air Force in 1994 out of Rapid City, SD. She has been deployed to Iraq and Afghanistan. Michelle retired in 2015 from Scott AFB, IL. 
Schane Schue, SSG, USA, Retired – External Operations Manager – 20+ yrs – Tracked Vehicle Mechanic  Schane joined the Army in 1990 out of Mitchell, SD. He deployed in support of OIF/OEF, Egypt, a humanitarian to Panama, among others. Schane retired in 2010 from 665 Maintenance Co, in Mitchell, SD.